November – Blog 2018
After the frantic half term holidays we now start to focus on Christmas! November is a very special time of year here at Foxholes Farm as we look forward to the coming weeks with a festive feast allowing our visitors to sample the delicious food, drinks and gifts our farm shop has to offer. The farm park has now closed for the season although some of our farm animals will still graze for the winter months whilst some will nestle into their winter corners. Our daughter Charlotte has the hardest job at this time of year, with the darker mornings and evenings drawing in so quickly, Charlotte has to make sure all her herds are kept safe, fed and watered and with our 1000th calf having been born, the farm certainly keeps her busy!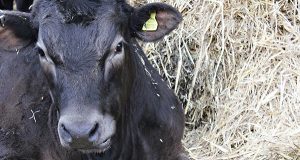 Our butchers are here to help and being open seven days a week we aim to please every customer that walks through our farm shop door. Fine cheese, pies, turkeys, beef, gammon and cold meats can now be ordered in time for Christmas. Take advantage and order early, you can order any size and cut to suit you budget or needs. The Christmas order form can be downloaded from our website or is available from our farm shop.
Why not treat your family or work colleagues, our Farmer's Table is offering a festive lunch that's sure to please. Available from the 19th November, Mon-Fri 12.00-5.00pm, a three course festive lunch for £24.95 per person. Or if you love tea and cake our 'Festive high tea for two' offers a selection of festive finger sandwiches, festive bites and treats all washed down with a pot of tea or coffee or why not add a glass of bubbly.
The farm shop has a great selection of gifts, from artisan gins to chocolates, cheese and condiments, perfect for making your own bespoke hamper. Just fill a basket, purchase some wrapping then add some fabulous goodies giving you the freedom to make it your own. Our butchery classes make great gifts, a practical course learning the tricks of the butchery trade, whether you're a small holder, restaurant owner, chef or just a keen foodie our butchers will share their amazing skills.
Which brings us to our Feast of all feasts, our Christmas feast tasting weekend is back! Saturday 1st December & Sunday 2nd December 11.00am–3.00pm, join us for a weekend of festive food, giving you the chance to try before you buy. Free parking, free admission, come and taste some of the best produce around from fine cheese to cold meats, condiments and desserts, washed down with a glass of mulled wine but don't forget to taste our very own grass fed beef.
So make it a date and we look forward to seeing you soon!