December – Blog 2021
Its the most wonderful time of the year! Yes it is, and the most busiest for us farmer's too!
We aim to bring you lots of food, booze and cheer this Christmas. Our team have been working tirelessly to bring you the best Christmas feast ever! Our fridges are packed to the brim with festive turkeys, home-reared beef, lamb, delicious pork and of course freshly prepared pigs in blankets. You can still order online or you you can pop in to see our team who will happy to help you with your order, whether its for entertaining the family or a dinner for two we have it all. Although our online shop has a Christmas order cut off for the festive day, our counters will be full to the brim every day over the festive season for anything you've forgot.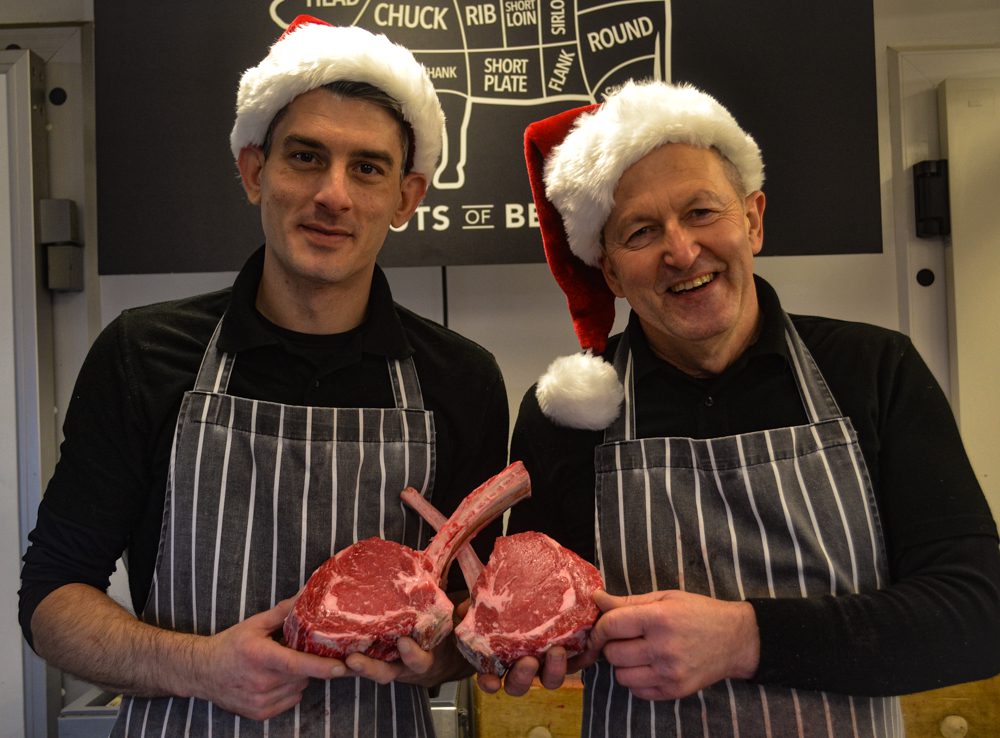 As we all know, small artisan producers and farmers in Britain where hit really hard during the pandemic last year, so to help everyone recover and thrive, we continue to champion small producers. We find it especially important to continue to support our British producers (including ourselves), so we have organised product tastings from cheese to freshly made sausages, local alcohol and non-alcohol drinks (for the designated driver). Tastings are every weekend from now until the festive day, please do come in and try before you buy some delicious food this season, our farm shop is also open every Thursday and Friday until 7pm for a late night browse.
Our deli offering this month (apart from the all the glorious cheese available) is our home-made pies and pastries. Cooked on site from our farm kitchen and made with fresh ingredients from our butchery, our pies are proving very popular, frozen to perfection all you have to do is bake. The Farm shop has an array of fruit and vegetables ready for the season, deliveries are fresh every day for all your seasonal delights, such as Brussels sprouts, parsnips, swede, roast potatoes, carrots and winter salads. We have seasonal citrus fruits like lemons for the all important G&T, clementines, limes, grapefruit, cranberries and pretty pomegranates (great in winter salads).
Shop Gifts – From artisan local chocolates to locally made homewares such as beautiful cushions, farm animal framed prints, jugs, planters and Christmas themed children's books. Traditional wooden toys, sweets, stunning tins filled with lovely biscuits, locally made gorgeous smelling candles with a Christmas festive twist, and the all favourites like mince pies, festive cakes, the list just goes on. What more could you ask for for those lovely gifts and stocking fillers this Christmas.
If all the festive food isn't enough, we have some lovely winter warmers for you to create. Slow-cooked beef ribs and beef cheeks are a lovely combination when cooked together or diced beef & kidney for pies and casseroles. We just love the one pot wonders of cooking this time of year, a warm hearty stew served on Christmas Eve or over the festive holidays is a must for all the family. Stock up with one of our meat boxes straight from the farm, quality and sustainable high welfare meat, from roasting joints to slow-cook braising joints to steaks and chops, it's what we are most proud of, from farm to table.
Whether you're celebrating with family, friends and loved ones, here at Foxholes Farm we would like to thank all of our customers (old and new) for all your continued support. From visiting our farm shop or relaxing in our farm park, we are truly grateful and would not be here without you. We are very proud to be in the heart of our community, our gratitude as a local producer is overwhelming and may it continue in 2022.
We would like to wish you a Merry Christmas and Happy New Year from Catherine and all the team here at Foxholes Farm.